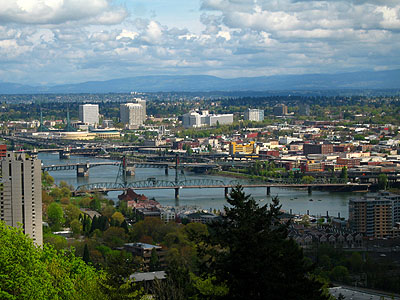 We've been back from our NW trip for a few days. The dogs are back, the puppy has already soiled the rug and I feel the stress of our everyday lives slowly creeping back into my shoulders which are inching their way back up around my ears. After five days in a quite little house in SE Portland we've realized that our street is very loud and that our lives are very hectic.
We left for our trip riding a epic wave of stress. On the drive we talked a lot about simplifying our lives. At the Applebee's in Medford, OR simplicity didn't seem so great. If leading a simple life means going to my neighborhood Applebee's for drinks on a Friday night, I'll figure out how to make complicated work.
Portland, however, was something different. Our friends are renting a house that could eat ours for $1100 a month. Food is cheap, good and the food carts, oh the food carts! Not once did I feel dumpy, dowdy or horribly out of fashion. It was really freakin' comfortable.
Then I thought about our current lives, our future lives, living in NYC, figuring out what we're going to do with our house when we move, how we're going to pay our property taxes and I felt scared. Really scared. Panic-y almost.
Are we doing the right thing? We are hoping to make our lives work in the one place that could possibly prove more complex.
I don't really want to move to Portland. I really want to move to NYC, but I don't want to move to NYC and flounder. I want to move to NYC and kick some ass!!!! Realize my dreams. Finally feel like I'm doing the right thing.
Not quite ready to embark on the journey,
Elsie